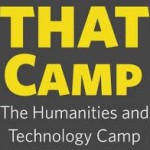 My dear THATCampers!  I just wanted to touch base and tell you that I can't wait for all of us to meet!
Wednesday from 4-6 p.m., I will be in the "Quiet Study Room" on the bottom floor of the AUC Woodruff Library doing early registration and also providing any assistance that anyone might need in some basic tools for THATCamp–like how to use Twitter, the WIKI, and our WordPress site.  Please stop by if you have any questions at all!
We have given the security people at the front door a list of your names, so you should be able to get in with no problems.  However, if you DO have a problem, the security people also have my cell number–so please give me a ring!
Wednesday night, some of you might enjoy going out to a nearby Cantina called "No Mas."   I am told they have a wonderful bar and restaurant there, as well as some nice shops.  There is a pre-conference Schmooze set for 6-8 at No Mas.  I didn't make any reservations,   but I figure we can all meet there casually.
From 8-9 a.m. in the AUC Woodruff Library "Quiet Study Area," we will met for some coffee and some more registration for anyone who needs to pick up badges then, and then, at 9 a.m. we will convene our scheduling session for the (un)conference.
Please be prepared to suggest some session ideas (even on the fly), so that we can make this a very useful and interesting THATCamp!
These Ground Rules have been established by the THATCamp organization at the Center for History and the New Media at George Mason University, where THATCamp was founded.
Since then, THATCamp has become an international phenomenon, helping to bridge the gap between people, projects, and the digital divide of technology and humanities teaching and research.
These are the THATCamp Ground Rules:
THATCamp is FUN

– That means no reading papers, no powerpoint presentations, no extended project demos, and especially no grandstanding.

THATCamp is PRODUCTIVE

– Following from the no papers rule, we're not here to listen and be listened to. We're here to work, to participate actively. It is our sincere hope that you use today to solve a problem, start a new project, reinvigorate an old one, write some code, write a blog post, cure your writer's block, forge a new collaboration, or whatever else stands for real results by your definition. We are here to get stuff done.

THATCamp is COLLEGIAL

– Everyone should feel equally free to participate and everyone should let everyone else feel equally free to participate. You are not students and professors, management and staff here at THATCamp. At most conferences, the game we play is one in which I, the speaker, try desperately to prove to you how smart I am, and you, the audience member, tries desperately in the question and answer period to show how stupid I am by comparison. Not here. At THATCamp we're here to be supportive of one another as we all struggle with the challenges and opportunities of incorporating technology in our work, departments, disciplines, and humanist missions. So no nitpicking, no tweckling, no petty BS.

The Law of Two Feet

– If, at any point in a session or workshop, you decide that it is not useful to you, you are expected to use your two feet to go to another session or workshop.